Heckle & Jive No.1 Pigbag
By Deanna Pearson
Photos: Mike Laye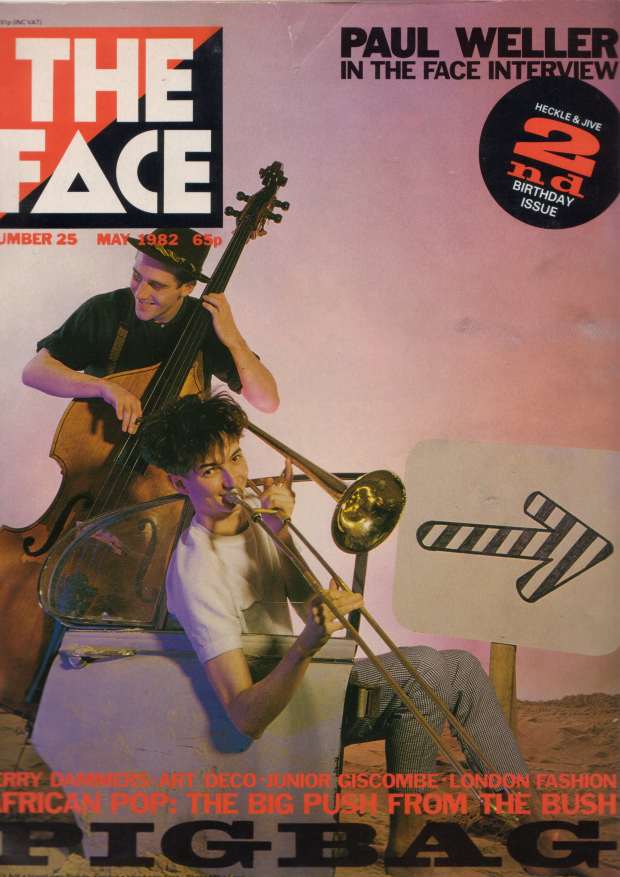 Into a large, sparsely furnished Shepherds Bush flat, in the fading light of an April afternoon, shuffles Pigbag's Simon Underwood with an almost humble air, and two mugs of coffee. The other five members have stayed home, which is something of a relief, the prospect of seven-way cross-conversations being always daunting and in this case seeming unnecessary. Even though individual contributions within the Pigbag collective are all obviously very personal, positive and well defined, the empathy between the six is also most apparent. It did seem that one could speak for all.
The six (initially seven) came together, from odd jobs and dole queues, to play music with no intention of forming 'a band'. Three are from Cheltenham, two from Bristol and one from Birmingham, ex-Pop Group bassist Simon being the only one with previous band experience. Together they play a fusion of jazz funk, classical, tribal, cafe society, free-form and improvised music, the likes of which you have probably never heard before, possibly never will again and for which there is certainly no prototype.
After a few months of sporadic jamming, it seemed conducive to involve other people in Pigbag's madness and mayhem; odd local gigs ensued and eventually one in London, where a rapport, but no contract, was established with Dick O'Dell's independent Y Records (FACE 22).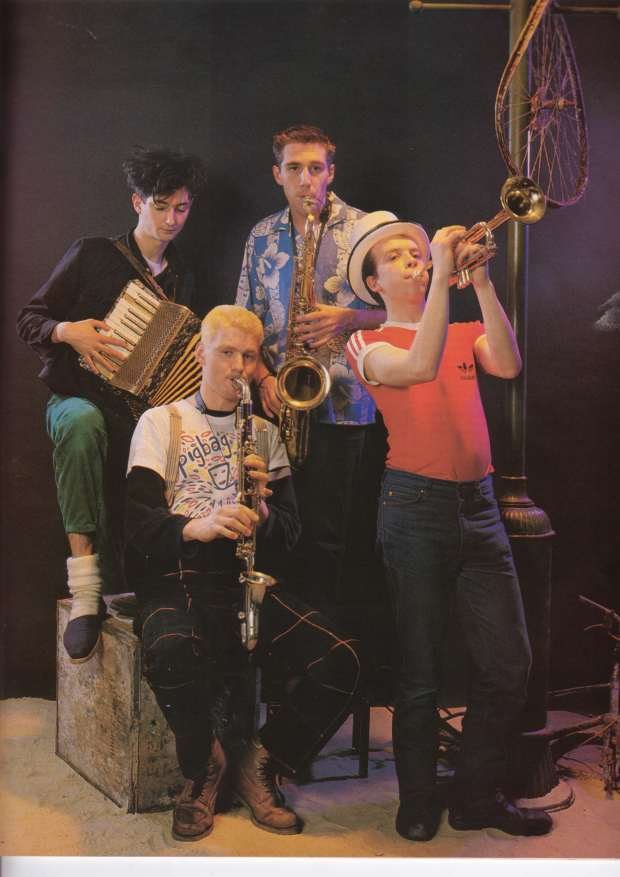 Pigbag's first single "Papa's Got A Brand New ", released last May, was such a success both here and on import sales in America, that a licensing deal with Stiff America was established, and in a nine month period 100,000 records were sold overall. Pigbag were also offered a Top Of The Pops slot – which they declined when the Powers That Be intimated that they wanted to edit the single track.
This April "Papa" was released again, to 22,000 advance sales, and the band were once again in serious debate as to whether they would do TOTP should it be offered. On this particular April afternoon four have decided in favour, two against. Simon is one of those against. Yes, they'd be reaching a wider audience, and increasing the band's chances of appearing again on TOTP with new material, but he still feels that a wider audience should be attracted by something the band are doing now, which is a lot different to what they were doing a year ago. Simon, of course, lost the argument.
No-one in Pigbag can read or write music bar Simon; it's a slow and painful enough process for him. When they started half the band could barely tune their instruments, so it was a matter of taking things slowly, playing very simply; improvising – Simon readily admits – to the point of chaos.
"In a way it was a bit self indulgent." be says in his quiet friendly manner. "Chip and I would play a rhythm and everyone else blow over the top of it."
Now, inevitably as well as necessarily what with all the touring and recording, things are becoming more structured. "We're heading towards playing completely improvised music, but good improvised music," explains Simon. "A lot of improvised music
is very obscure. but you can get to the stage where it is neither that or self indulgent. You build skeletal structures, like mantras I suppose, where you all get into the same groove, but expand in your own spa around that basic discipline."
Accordingly Pigbag's music changes all the time. All of them now play different instruments from the ones they started with. The double bass, dropped in the beginning because they didn't know how to amplify it adequately has returned now they have the technical know-how.
They've introduced keyboards, and are thinking of steel drums, whilst recognizing the dangers of having too many instruments. New ones will probably replace rather than supplement old, not only to develop a completely different feel and sound but also to ensure Pigbag do not become too proficient in any one area.
They have, Simon explains, a morbid fear of becoming like ELP. Which explains everything.
In March, Pigbag released their first album. The wittily-titled "Dr Heckle And Mr Jive" is an instrumental collection of real warmth and depth embracing a radical range of style and influence. Simon:"I think a lot of people expected an album of 'Papas' and 'Sunny Days' (their second single) which we didn't do and which I think threw a lot of people, which was good."
Although many reviews suggested the album may have been more accessible with vocals, Simon doesn't agree. It would have been different, he asserts, just as it would have been different if they had a huge string section. but vocals are, he insists, something which are abused, taken for granted and used automatically for no good reason.
"Too many people look for a song to be about a certain thing. Why can't they relate to not being told. via the vocals, what a song's about – they don't have to be about anything, or they can be about a lot of things, it's up to the individual to decide. People should be made more aware of their perceptive faculties."
According to Simon, the horn section and saxophone are the vocals of a song, going back to early Thirties jazz days and the southern states of America where there was no free speech, and for black people in particular the saxophone was a crucial instrument for expressing how they really felt. Pigbag may well use vocals in the future, to add yet another dimension to their music, but as yet they simply haven't had anyone who could, or felt inclined to, sing in the band.
"Heckle And Jive" was recorded over a period of six months, not in set studio time, but whenever they had the time and inclination. A lot, needless to say, was improvised on the spot. Many of the live versions of the songs are completely different from the album. They develop, change and are rearranged the more they are played. Some they don't play at all, like "Brian The Snail" which audiences shout out for all the time according to Simon.
"In some places people have shouted abuse or walked out because they're used to seeing bands which reproduce their albums onstage, for which they might as well sit in front of the stereo at home. But they go to see the clothes and the haircuts as well, which Pigbag don't have. They want something else, an image, to latch onto, because they obviously can't get into the music.
"But what's an image?" he continues dogmatically. "Everyone says we've got an anti-image, which is rubbish. We have got an image in a way, we've all got our individual images, we all live, act, play, dress according to personal taste, rather than say we're all going to look like this period in history." But still people try to pigeonhole Pigbag.
In autumn of last year Pigbag invaded America, coinciding with the release of "Sunny Day" over there, and riding high on the dance floor success of "papa". They played San Francisco, which Simon didn't like. "They all seemed to think they were part of some big Arts scene, like some places over here, and were trying to be so cool."
But, in New York, where Pigbag went crazy till six o'clock every morning, everything went just fine, despite the initial confusion. Everyone had apparently believed Pigbag to be black, and their gigs attracted very mixed audiences, which was unusual. "Which proves a point. Our music isn't strictly white, and it isn't strictly black, it crosses over very successfully."
The singles were first aired on white radio stations but quickly crossed over to black ones. Pigbag felt they had managed to lose the Brit Funk tag which had initially been attached to them both here and in the States. Simon laughs at the irony now, when so many supposedly Brit Funk bands take their influences from American music.
This April Pigbag were preparing to go to America again, to travel further afield this time, to the mid-West, Detroit, Philadelphia and Las Vegas. As always they will be attempting to break even financially as they miraculously managed on their last tour, despite the obvious expenses involved in such an extensive line-up.
They managed it, claims Simon, by not doing the usual rock'n'roll things – hiring a huge all-mod-cons coach, paying through the nose for flash hotels and running up unnecessary bills. Everything Pigbag do is done without frills or glitter, because there is no major record company behind them and therefore no money to lose in the first place.
Y Records worry that the band may become too avant garde, "which we could do. In a year's time we could be playing completely avant garde music," admits Simon. "But if we do it'll still be a progression."
Such a move would at least refute the charges that they were becoming too commercial made by seventh member Chris Hamlin, who was with the band when they recorded "Papa" but left immediately after, apparently to study traditional music in Africa. He is still in fact domiciled in London and rumoured to be demanding full rights to "Papa" as opposed to the royalty share he already receives, claiming that he wrote the song single-handedly. Simon reluctantly admits this to be true; Chris declined to comment. "But the fact is he didn't play on half the record. Now he's been wound up by someone, and I know who too."
"It's horrible isn't it?" he then asks despairingly, acknowledging the similarity between this and the Specials/Fun Boy Three situation where Neville and Lynval are claiming they wrote "Ghost Town" some six months after its huge success.
"It's a real cliched rock 'n' roll attitude, and in Pigbag's case I'm just glad it's at least coming from someone who hasn't been in the band for a longtime. "None of us would ever do that," he finishes up not self-righteously, but as a simple statement of Pigbag's strong principles.